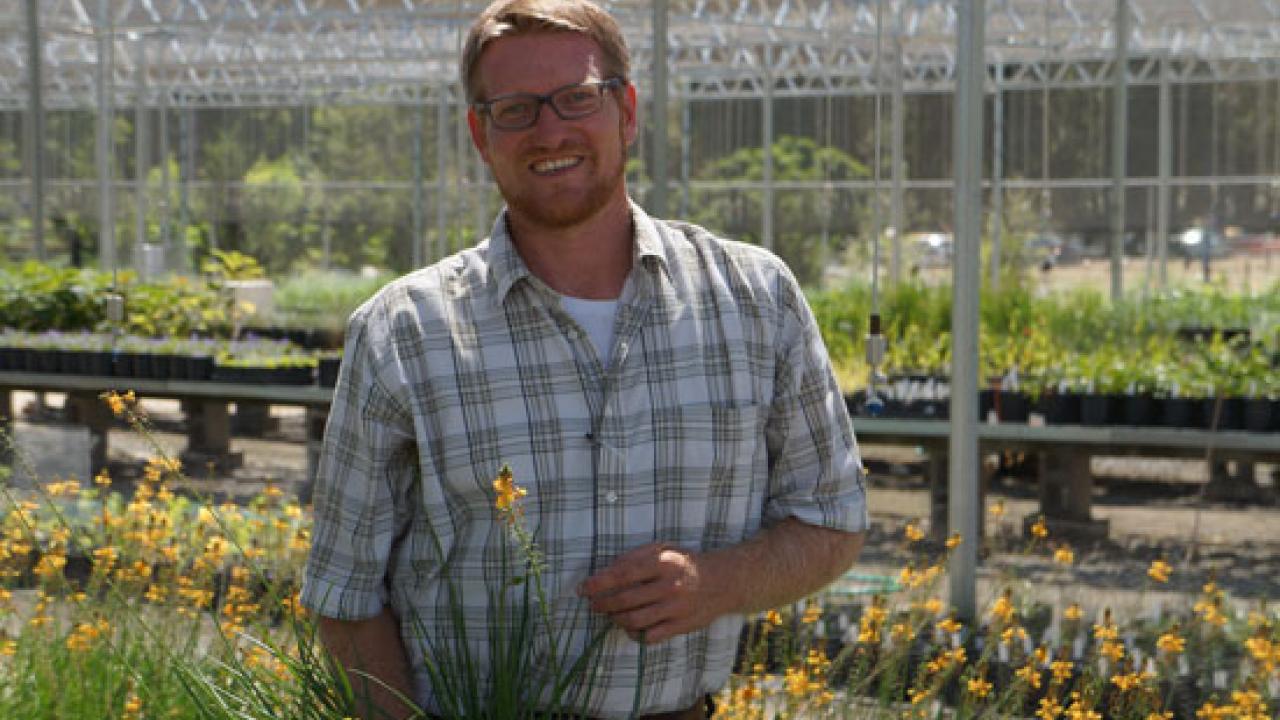 The article can be found on the Sac Bee website. CLICK HERE or you can read it below.
Seeds: California native plants are on gardeners' most wanted list
By Debbie Arrington
Taylor Lewis believes in the power of natives. As an expert in California native plants, he's been preaching this botanical gospel for years. But it took the drought to finally get that message to sink in with other gardeners.
"That's what people are looking for – California natives," said Lewis, who has been growing them by the thousand.
As manager of the arboretum teaching nursery at UC Davis, Lewis saw the conversion firsthand. "At our four spring sales, our California native aisles were virtually empty with 90 percent sold. I know what people are looking for, but they needed a place to find it."
A lot of those sought-after natives should be in good supply today during the first of two October sales at the nursery, located near the small animal hospital on the UC Davis campus. A second sale is set for Oct. 25.
The arboretum nursery grows 80 percent of its plant stock in Davis, Lewis noted. "I've always liked to grow things where they go. These plants didn't have to travel hundreds of miles; they were grown here. I'm relatively sure they'll survive in Sacramento."
Lewis served for seven years as nursery manager at the now-defunct Windmill Nursery in Carmichael before working as sales manager at Cornflower Farms in Elk Grove. He took over as nursery manager for the UC Davis Arboretum and public gardens in January.
"It was exactly like coming home," said Lewis, a UC Davis graduate. "I figured they showed me how to do it – to make things grow – and now I'm back doing it for them."
For today's sale, the arboretum teaching nursery will have more than 15,000 plants in about 400 different varieties, some unavailable outside UC Davis. The water-wise inventory leans heavily toward natives.
"We increased our native inventory by 35 percent," Lewis said.
The sales continue a yearlong theme: The New Front Yard. Featured in The Bee, that series of 40 drought-tolerant and wildlife-friendly plants are recommended substitutions for traditional landscaping.
"It's so applicable," Lewis said. "So many people I talk to from Sacramento, their yard is just dead. They did the right thing. They let the grass die. Their biggest question: What now?"
Lewis suggests attacking the dead lawn with a purpose.
"Have a plan," he said. "You need to know what plants need – some need more water than others, some need sun, others shade. Do some research yourself."
Then, find some examples.
"Look at plants," he said, pointing to examples that surround the nursery. "Find out what you like and if it will live here."
Give yourself some options, he suggested. "If you start out (with the goal), 'I want a bush 3 feet high with red flowers,' that can be pretty limiting. But if you say, 'I want something with flowers about this size that will grow in these conditions,' there are options."
Among Lewis' personal favorites are the buckwheats, not just for the plants' looks but what buckwheat does for the garden. "I absolutely love the diversity of the beneficials (insects) that it brings to the garden. I love to see all the different life on buckwheat."
But there are so many good natives, he added. "I'm a big ceanothus guy; they do pretty well here. California fuchsias are a real people-pleaser. There are never enough sages in the world. One of the nicest little flowering plants is the seaside daisy, particularly the Wayne Roderick variety we grow."
See several natives in bloom this morning at the arboretum teaching nursery. If you get there early enough, you may take some home, too.
Category
Tags