Staff Picks for our Fall 2022 Plant Sales
Updated October 20, 2022
Looking for fresh ideas of plants to add to your garden or landscape? Consider one or more of these plants as you shop our fall 2022 plant sale fundraisers. These selections are chosen by members of our staff who were asked to pick natives, or regionally adapted plants, that they have experience growing and enjoying, which are also heat and drought-tolerant and provide good habitat value.
Be sure to check out our complete inventory, and other important information about our plant sales, on this page.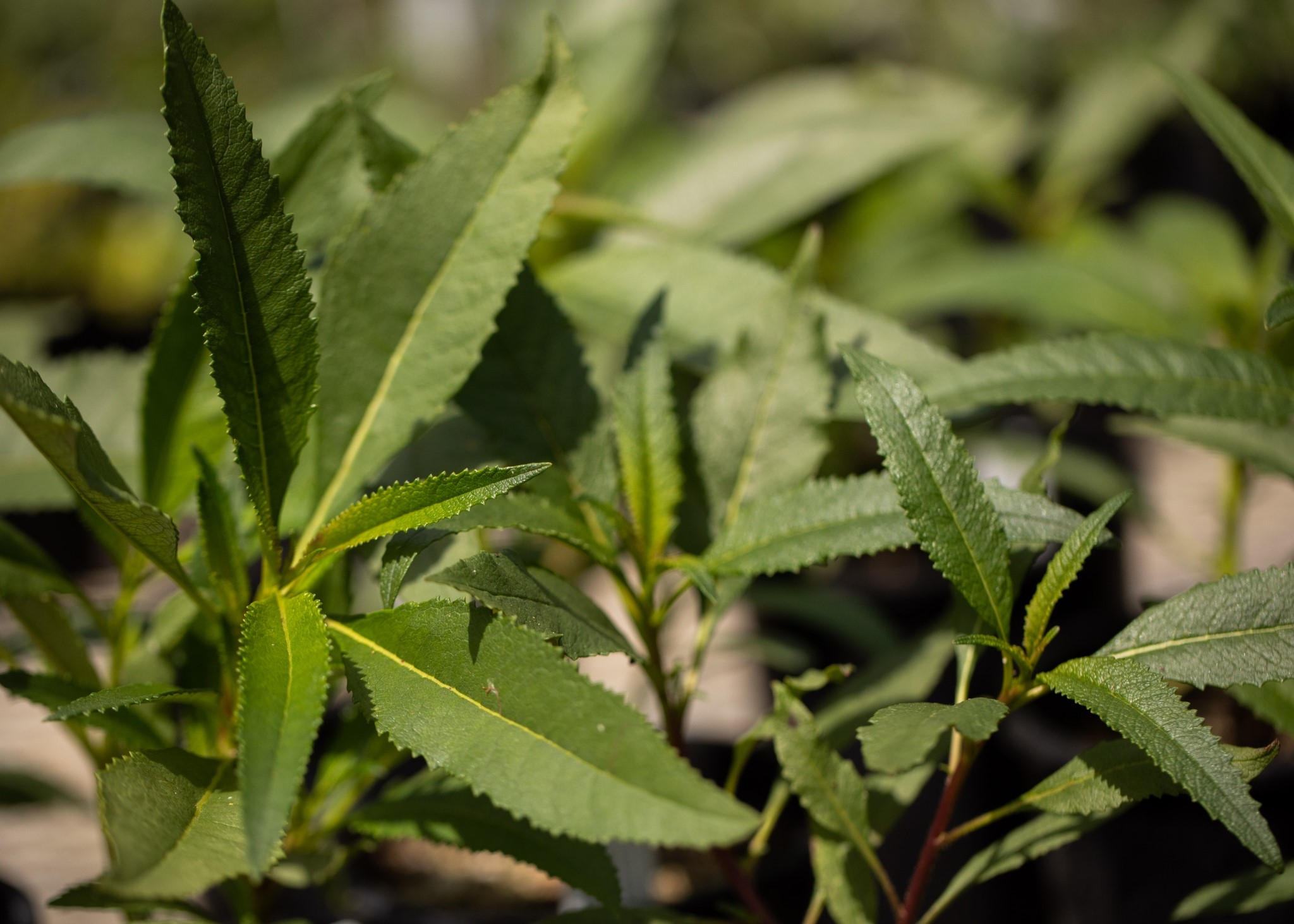 California yerba santa
Eriodictyon californicum
Find on Bed A15:  4" for $9.00
Chosen by:
Rachel Davis, GATEways Horticulturist
Climate-ready, evergreen, attracts pollinators, detracts deer, and thrives in multiple types of California habitats! This medicinal native plant is making its way into the nursery trade and I'm interested in seeing how it grows in the garden environment. Check out the ethnobotany and historical and modern uses of this plant!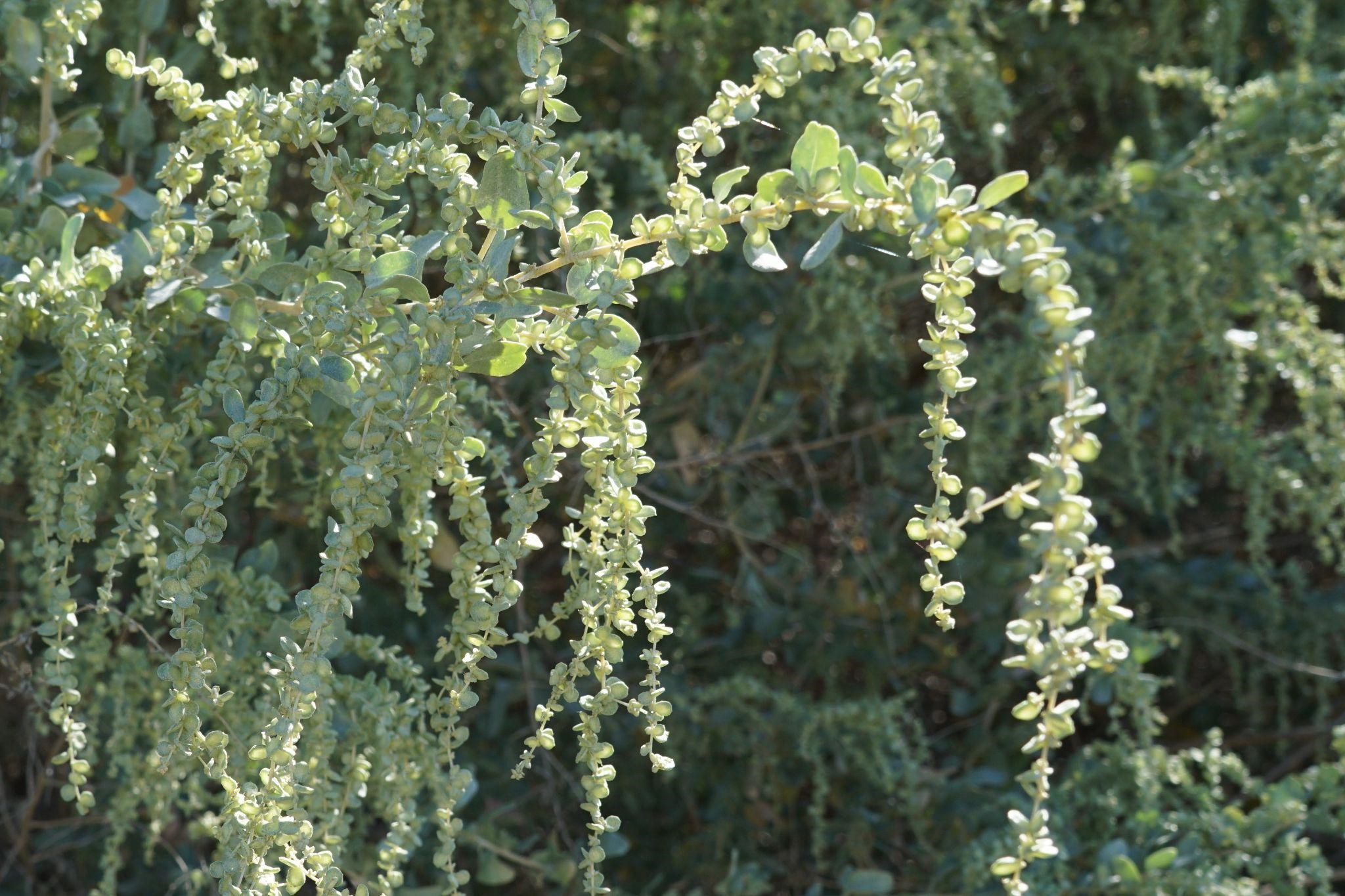 big saltbush
Atriplex lentiformis
Find on Bed C16: 1G for $12.00
Chosen by:
Angelica Sauceda, Plant Records Specialist
Also known as quail bush, this silver-green, fast-growing, low-water use shrub provides habitat and forage for birds and butterflies. Growing up to 10 feet tall and a bit wider, this gentle giant tolerates poor soil and high sun exposure. Atriplex lentiformis makes an excellent windbreak, hedge, or screening plant. Use as a background element in the home garden and encourage a fresh new look with regular sheering. You'll have to share with us when a family of quail move in to your home garden!
Great Valley gumweed
Grindelia camporum
Find on Bed A15: 3" for $7.50 or 4" for $9.00
Chosen by:
Nina Suzuki, Waterway Steward
Want something tough, that blooms from May through November when most other native plants have given up for the summer? Check out Great Valley gumweed! It's perennial, drought and salt tolerant, but happy in wet places too. The base of the flowers and dry seed heads have a fun, thistle-like shape and texture. It's a local California native that I consider a habitat restoration all-star. It dies back in the winter to a basal rosette of leaves, so consider mixing it in with native grasses or other plants in your wildflower meadow or butterfly garden. The long bloom period makes it an important late-season source of pollen and nectar for native bees, honey bees, syrphid flies and butterflies. If you wake up early in the morning, you're likely to see some native bees sleeping in the flowers. And if you're not a morning person, don't worry, you will see the butterflies visit later in the day!
Photo by Miles DaPrato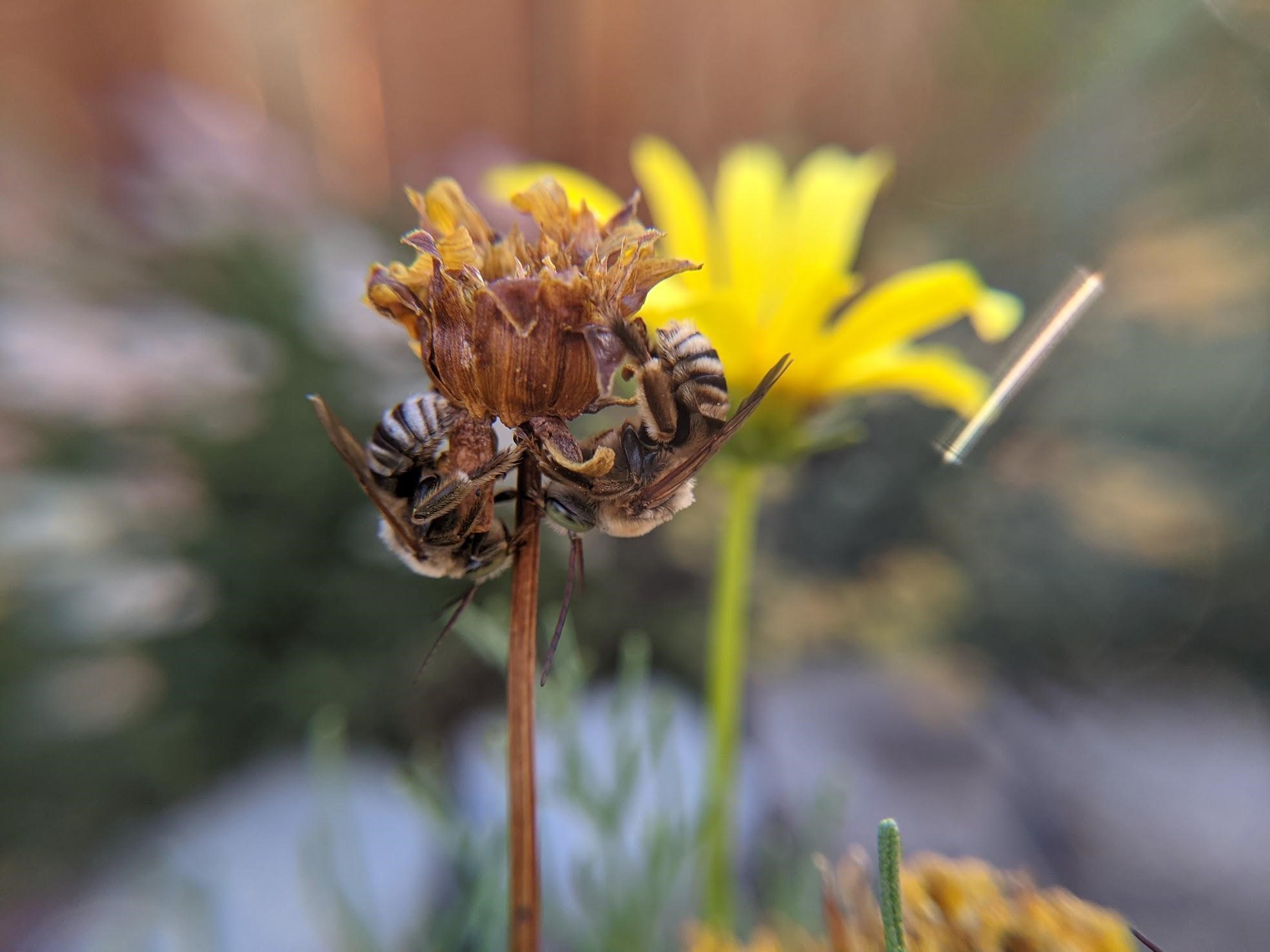 giant coreopsis
Leptosyne gigantea
(syn. Coreopsis gigantea)
Find on Bed B15: 1G for $14.00
Chosen by:
Rachel Davis, GATEways Horticulturist
For the plant collector who also wants to support wildlife in their garden! These remind me of the Lorax's Truffula trees! The daisy-like flowers sprout from a bright green lollipop atop a bare trunk! These early season bloomers (Jan-May) are summer dormant so keep them off summer irrigation and strategically place them. Skip the deadheading and you may find male longhorn bees sleeping in spent flowers for the season!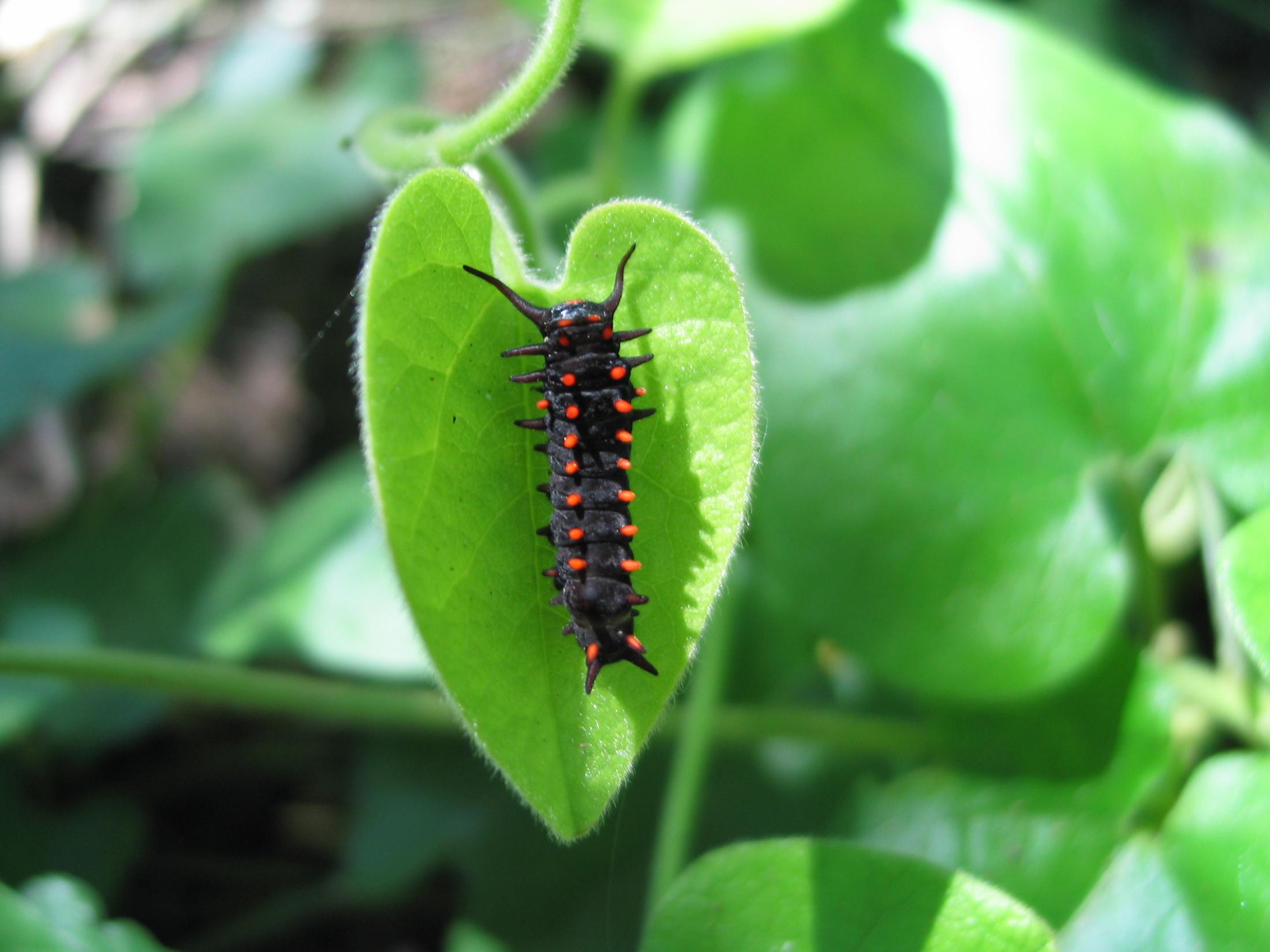 California pipevine
Aristolochia californica
Find on Bed B1: 1G for $14.00
Chosen by:
Stacey Parker, Director of Public Horticulture and Engagement
While this plant may not seem like much at first glance, it's guaranteed to make you feel good about yourself! That's because it's the only host plant for the California pipevine swallowtail butterfly. When you see that the leaves have been munched, you can rejoice in knowing that having planted this plant, you have done your part in helping out this local native butterfly! Plus the caterpillars look punk rock cool! This vine goes dormant in winter so be sure to take that into consideration when finding a good spot for it.
Photo by Mia Ingolia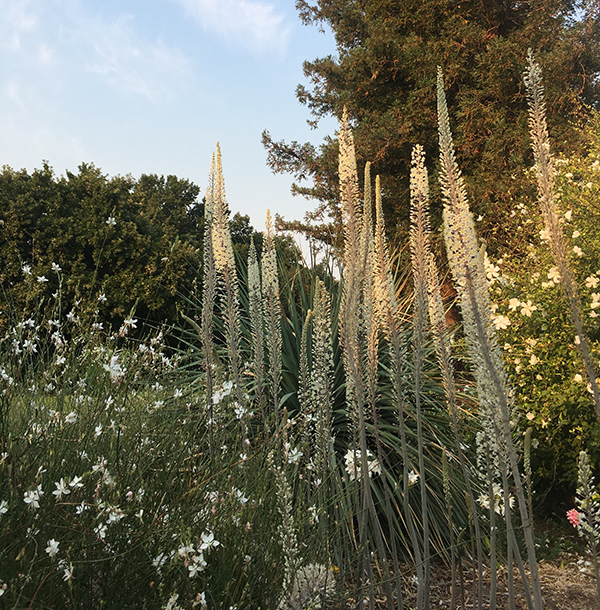 sea squill
Drimia maritima
Find on Bed B6: 3" for $10.00
Chosen by:
Emily Griswold, Director of GATEways Horticulture and Teaching Gardens
It's such a delight to see these white spires of flowers shoot skyward in the Gazebo every August to perk up the dry summer garden. The mature bulbs grow to the size of a football over time and produce an impressive rosette of sculptural leaves in the winter. This Mediterranean bulb is very drought tolerant, and the leaves will die back to the ground in late spring. To fill the gap left by the dormant foliage, we pair them with a cloud of summer-flowering gaura.
SOLD OUT!
Yerba buena 
Clinopodium douglasii
Find on Bed B1: 3" for $7.50
Chosen by:
Angelica Sauceda, Plant Records Specialist
Yerba buena is a graceful, spreading, evergreen-perennial that can quickly fill in a shady understory area. Tiny white flowers peek out among the mint-perfumed green, occasionally purple, leaves from April to September. While suitable for container gardening, in favorable ground conditions this native can spread up to 6 feet wide. Bring some fresh leaves into the kitchen, put on a kettle, and learn about the traditional uses of this California native which was once the namesake of the Mexican settlement that later became San Francisco.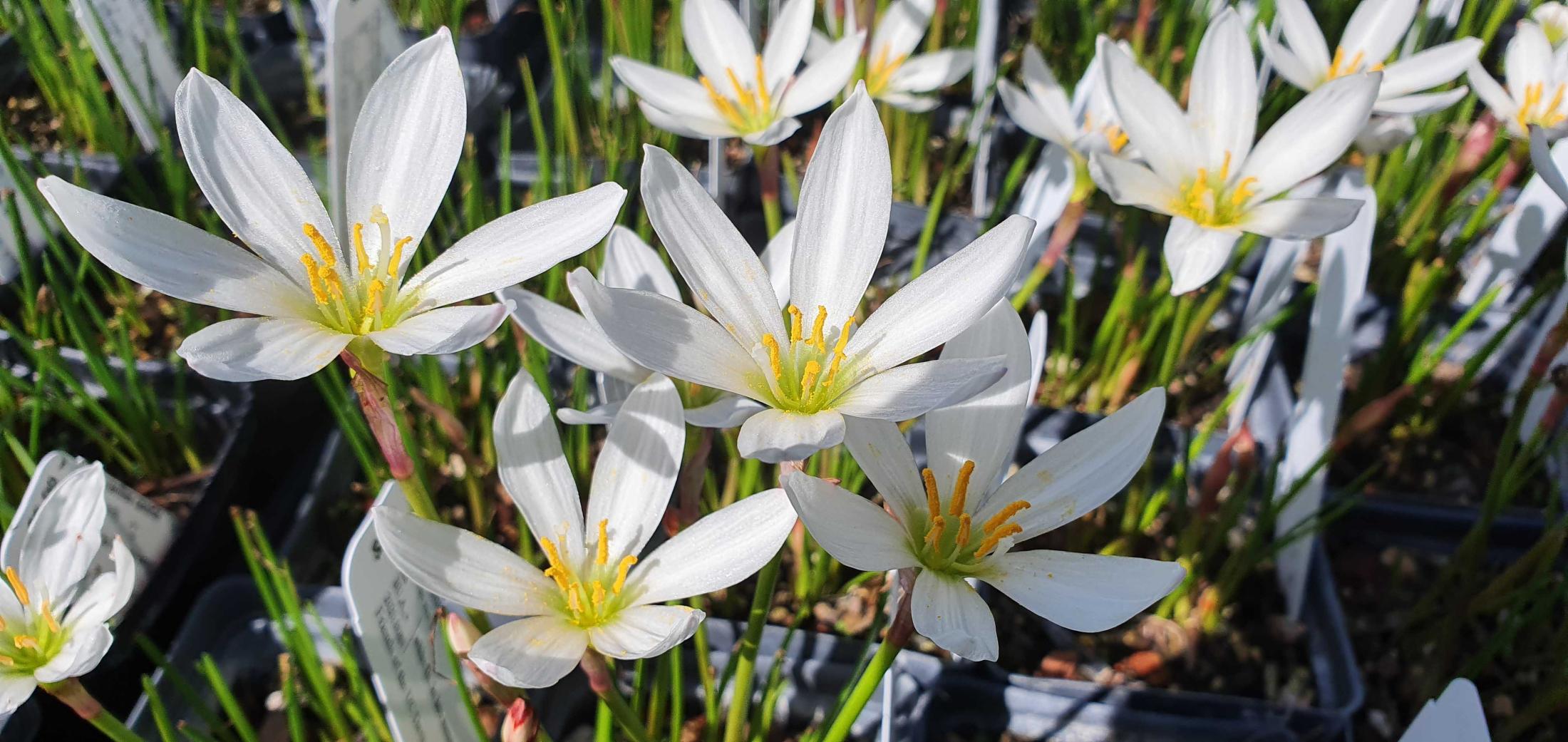 Argentine rain lily
Zephyranthes candida
Find on Bed B5: 3" for $6.00
Chosen by:
Ryan Deering, GATEways Horticulturist
I love this tidy plant for its cheerful pure white flowers that appear in the fall as the summer heat starts to fade, giving the garden a nice dose of cool. The large flowers appear to float over the slender leaves, and because of its small footprint, I like to interplant it amongst other low garden plants. It also works great lining paths and garden edges. It's easy to divide and make more after your original clump expands for a couple of years. Wonderful in almost all gardens as it needs practically no maintenance and has a long bloom period.
Texas mountain laurel
Dermatophyllum secundiflorum
Find on Bed B13: 1G for $14.00 or 2G for $20.00
Chosen by:
Emily Griswold, Director of GATEways Horticulture and Teaching Gardens
This tough southwestern shrub or small tree is just starting to catch on in California. The glossy evergreen foliage is unfazed by heat or drought. Lovely wisteria-like clusters of purple flowers in March have a unique scent of grape soda. Following the flowers are unique bean-like seed pods with their own ornamental value. Although eye-catching, please note that the coral red seeds are highly poisonous.
Photo by Ellen Zagory
Primary Category
Secondary Categories
Tags