Staff Picks for our Spring 2023 Plant Sales
Looking for fresh ideas of plants to add to your garden or landscape? Consider one or more of these plants as you shop our Spring 2023 plant sale fundraisers. These selections are chosen by members of our staff who were asked to pick natives, or regionally adapted plants, that they have experience growing and enjoying, which are also heat and drought-tolerant and provide good habitat value.
Be sure to check out our complete inventory, and other important information about our plant sales, on this page.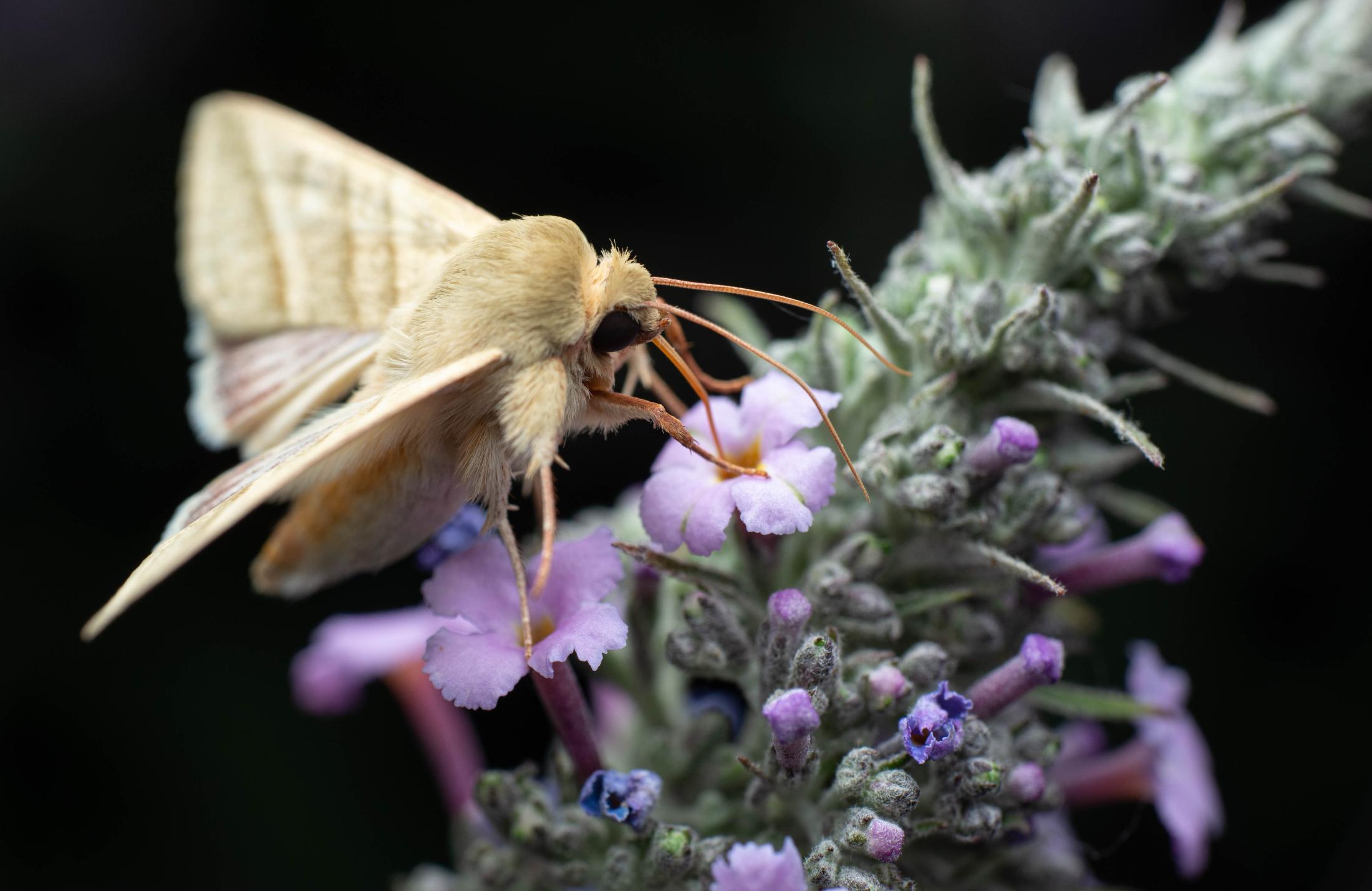 Glass Slippers butterfly bush
(

Buddleja
'Glass Slippers')
Find on bed B12: 1G for $11
Chosen by:
Melissa Cruz Hernandez, Outreach and Leadership Program Manager 
If you are looking for a plant that as popular with insects as your local Starbucks is, then this is the plant for you! It is frequently visited by a multitude of native pollinators including but not limited to, butterflies, bees, flies, and even moths! The assortment of colorful flowers is sure to attract the attention of insects as well as your neighbors. You can choose between, tall or short varieties depending on your garden layout or personal preference. It requires full sun but can tolerate some afternoon shade, especially during those hot summer months. Buddleja can either be a staple shrub or a filler in gardens that need that extra pop of color. Give it time and this plant is sure to shine!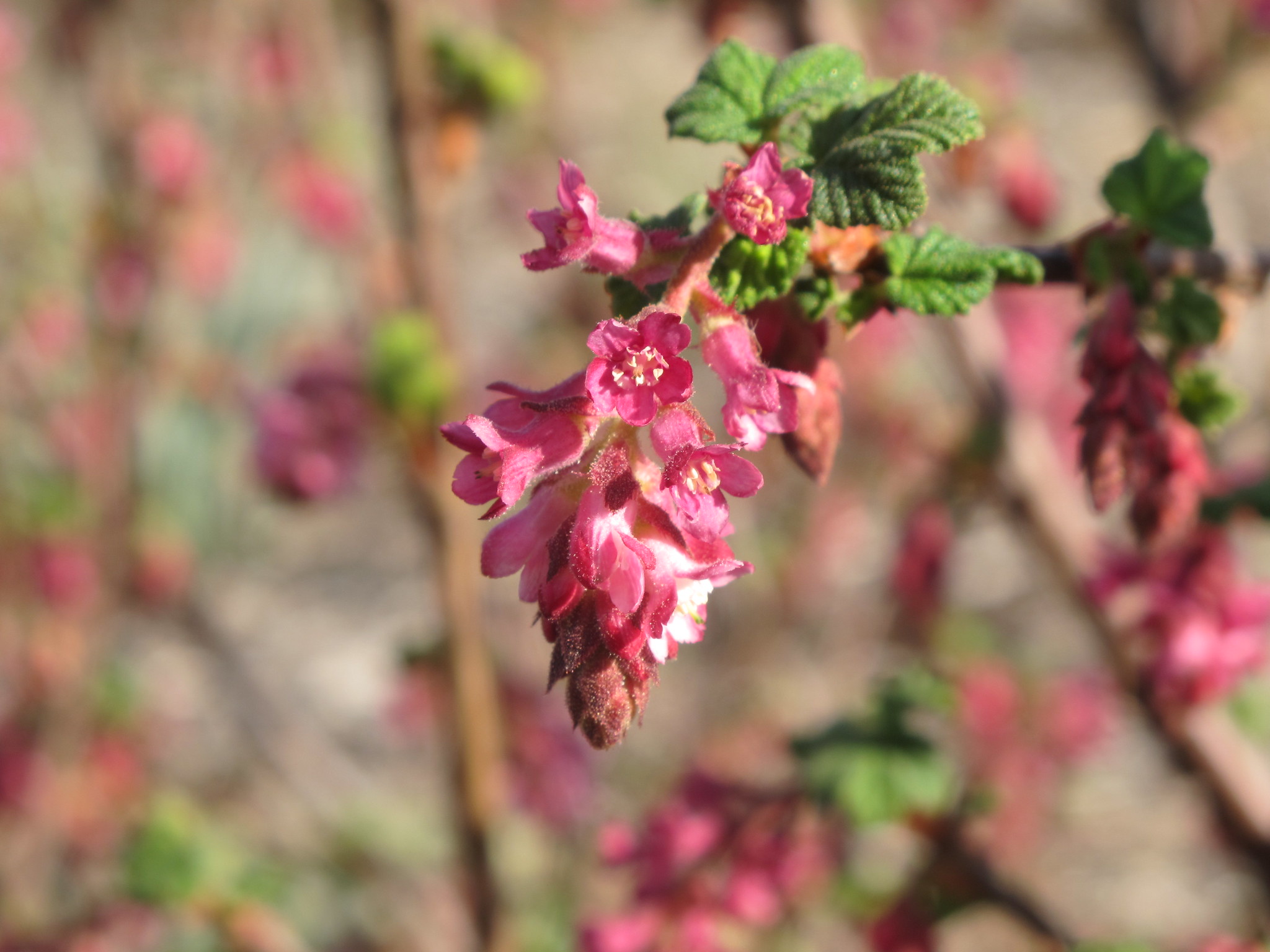 Montara

Rose chaparral currant
(

Ribes

malvaceum

'

Montara

Rose')
Find on bed B3: 1G for $14
Chosen by:
Emily Griswold, Director of GATEways Horticulture and Teaching Gardens
The hanging clusters of deep pink flowers on this shrubby currant are late winter show stoppers in partial shade. Chaparral currant is very drought tolerant, but it will look its best with occasional summer water. The aromatic leaves typically fall in late summer and re-emerge in winter. This selection of chaparral currant has exceptionally richly colored and showy flowers compared to the species, and it's a great winter nectar source for hummingbirds. For a lovely native combination, try pairing chaparral currant with the yellow flowers and purple-blushed winter foliage of creeping Oregon-grape (Berberis repens).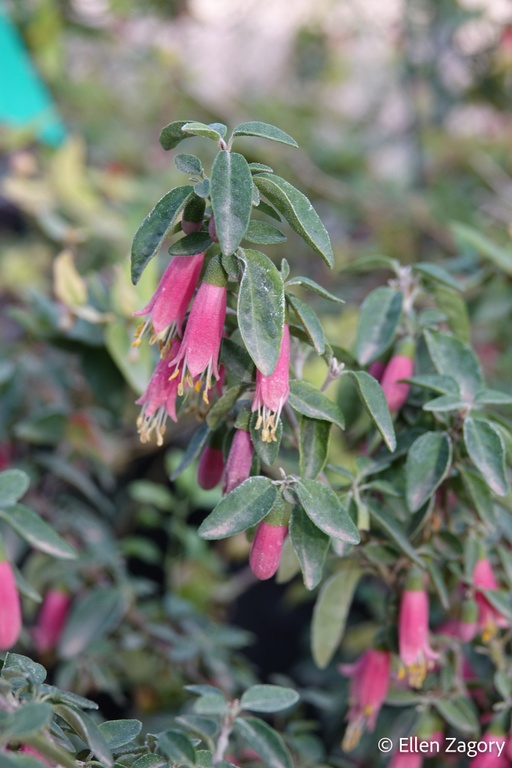 Dusky bells


(Correa

pulchella

)
Find on Bed C5: 1G for $12
Chosen by:
Kitty Bolte, GATEways Horticulturist
Looking for some winter interest and cheer in your garden? Consider Correa pulchella and its cultivars, including 'Dusky Bells' and 'Pink Eyre'. These cheerful Australian natives start blooming in November and continue on through February or March and enjoy part shade. I've had one growing happily in a pot near my back door for years now. They are also highly drought tolerant and require minimal summer irrigation. A real winner that deserves a place in more gardens!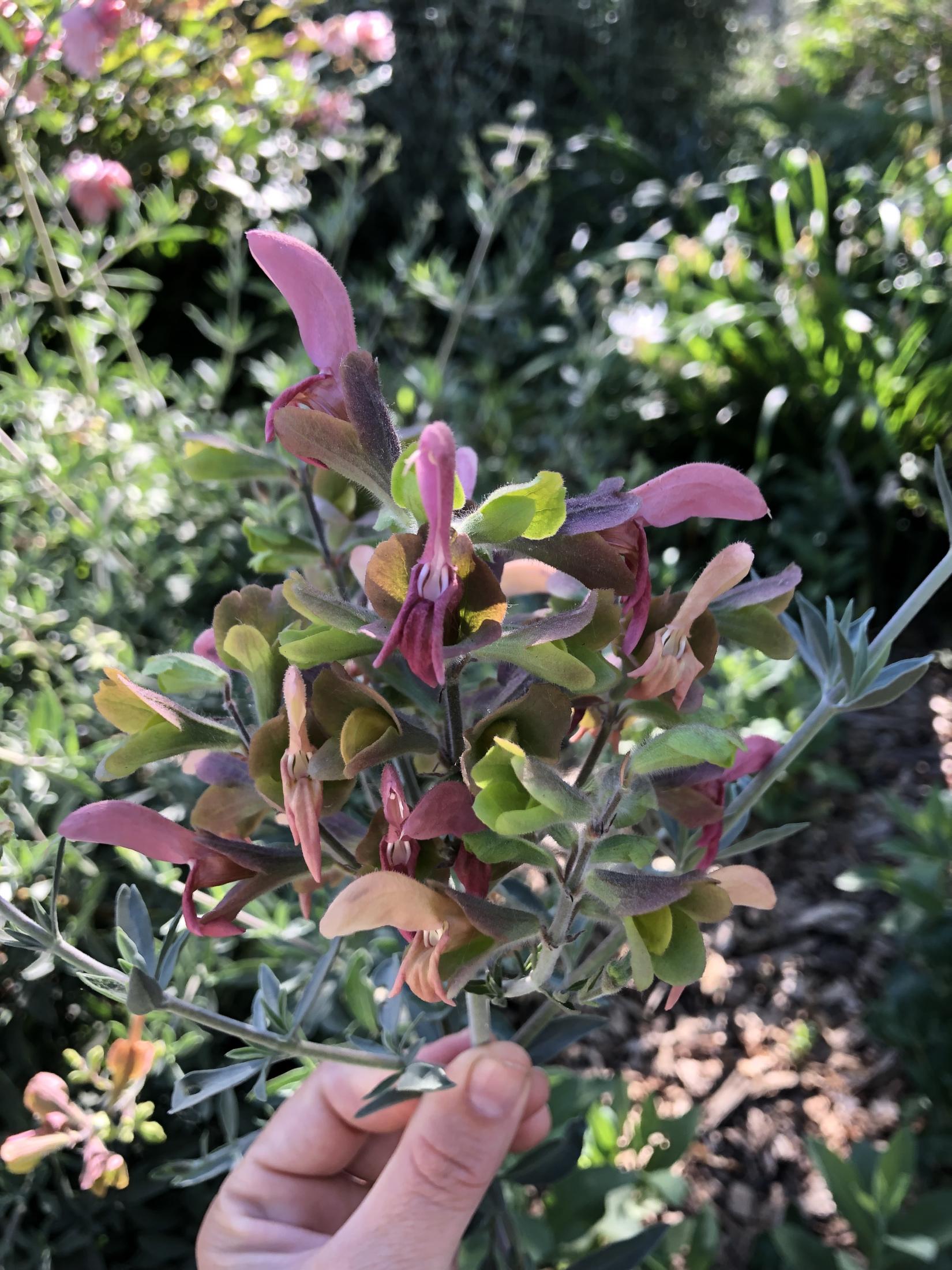 Rocky mountain sage
(

Salvia lanceolata

)
Find on bed B10: 1G for $11
Chosen by:
Ryan Deering, GATEways Horticulturist
Another fantastic, beautiful, and interesting plant from South Africa. I love that it is easy to grow and stays relatively dense and compact to only about 3 feet tall and wide. The aromatic gray leaves make a wonderful color combination with the rosy-rusty red flowers that draw in the hummingbirds. This plant is colorful over a long season as the flower calyx is also a rosy-red color and persists after the flowers have finished. This plant will blend right in with California natives, desert plants, and of course other South African plants – all of which are perfect in the dry garden. Enjoy this rare beauty!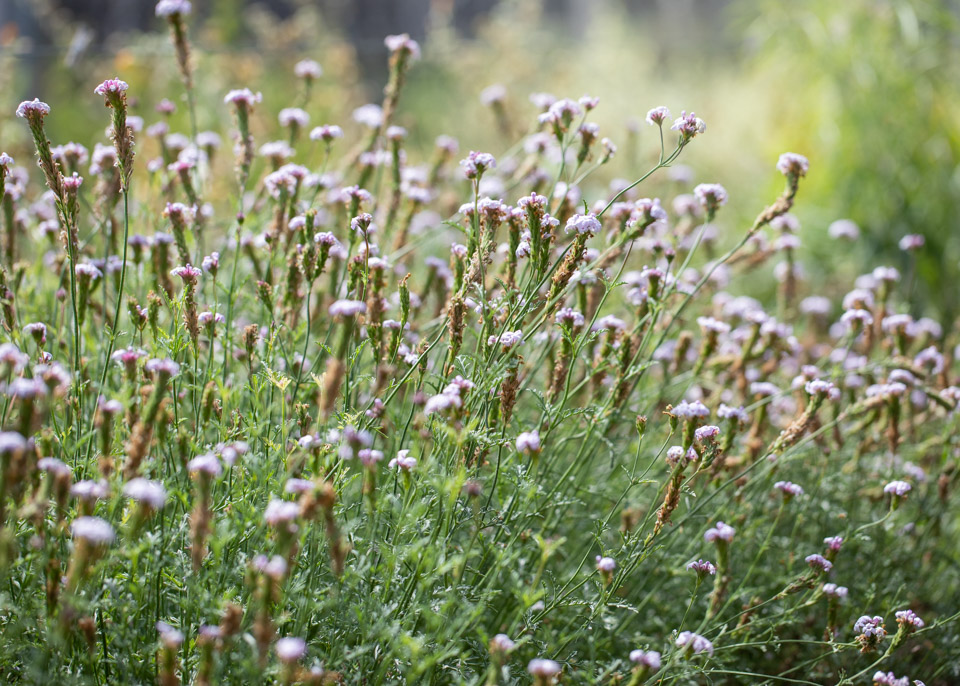 De la Mina verbena
(

Glandularia

lilacina

)
Find on bed A16: 1G for $14
Chosen by:
Rachel Davis, GATEways Horticulturist
Want to create a biodiversity hotspot in your garden? Plant Glandularia lilacina! This super drought tolerant mounding verbena supports ALL the pollinators! - bees, butterflies, hummingbirds, hoverflies and more! It is also a host plant for the white-lined sphinx moth! While it puts on the best display in the spring, this plant can flower year-round. It makes a great border along paths and can be a one stop shop for your Potted Plants for Pollinators!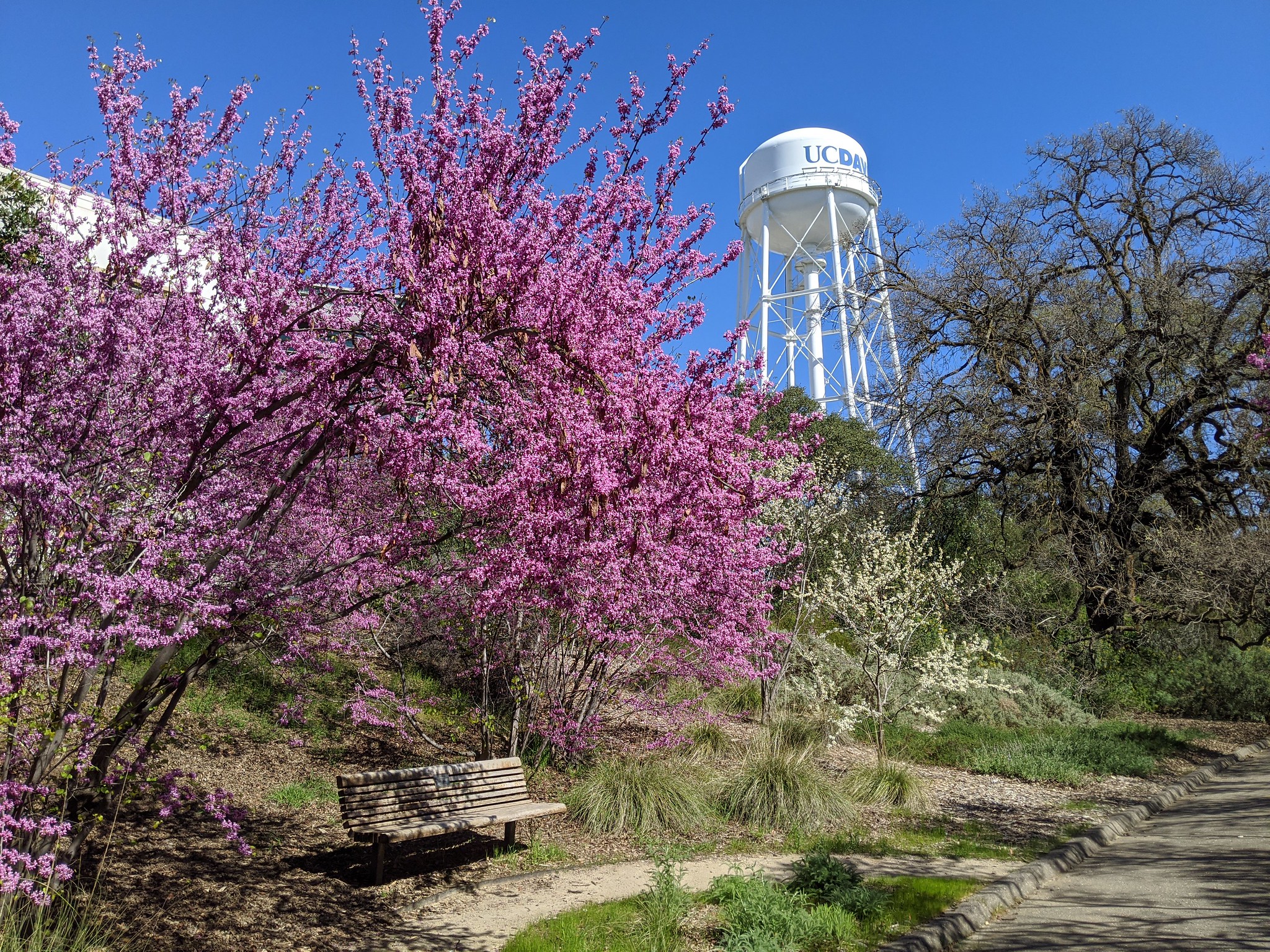 Western redbud
(Cercis occidentalis)
Find on bed C16: 1G for $14
Chosen by:
Nina Suzuki, Waterway Steward
This large deciduous shrub blooms in February-April before its leaves bud out in the spring. The purple flowers directly on the smooth bark are a wonderful early show. The rusty red-brown seed pods often hang on through winter and provide interesting color and texture. Add to that the lovely heart-shaped leaves that come out bright green and darken as they age and you have beauty year-round with this California native.
Primary Category
Secondary Categories
Tags