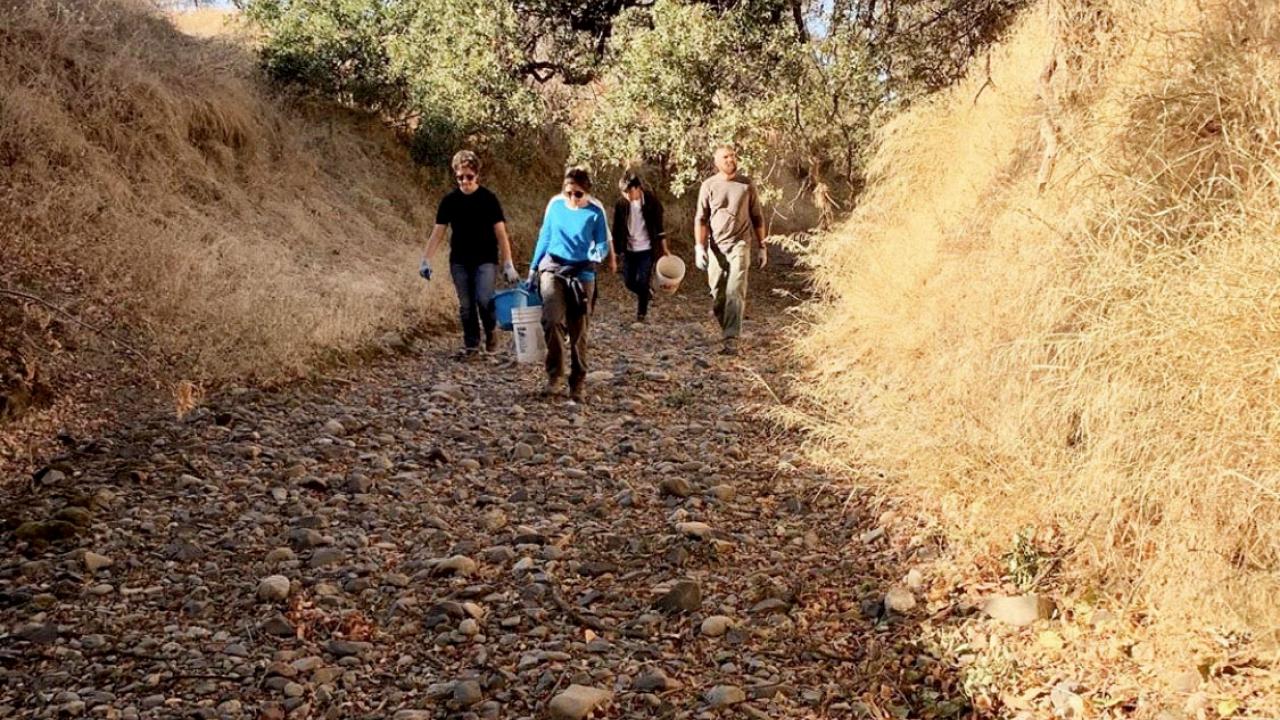 Wrangling invasive species, searching for seeds, and maneuvering chainsaws, it's just another day on the job for the Arboretum and Public Garden's Learning by Leading™ S.E.E. Putah Creek team. This quarter has been a busy one for the team dedicated to restoring and managing the UC Davis Putah Riparian Reserve. Every week looks different for the interns, as their work is dependent on what the Reserve needs in the moment.  
One project the team took on this last fall quarter was invasive species control. Removing invasives, like eucalyptus and tree of heaven is tough, but satisfying work, and a task which this team received special training. Invasive species become competitors for the native species in the Reserve, taking up space and resources that would otherwise be used by the native plants.  
In addition, the team focused on seed and acorn collection, gathering a large variety of different seeds including vinegarweed, mugwort, Spanish clover, yarrow and buckeyes. The acorns species selected (live oak and valley oak) are common in riparian habitats -- ecosystems near rivers, streams or creeks -- and grow easily in low-water conditions. The team then processed the seeds and acorns, and stored them in a fridge to slow their growth until the spring when the team will plant them.  
"The main goal of planting these seeds is to increase the functional diversity of the reserve.  First, we needed to remove the invasives. Next, we can begin to add back the native plants utilized by local wildlife to improve the health of this rare ecosystem," said co coordinator for S.E.E. Putah Creek, Adriana Alarcon.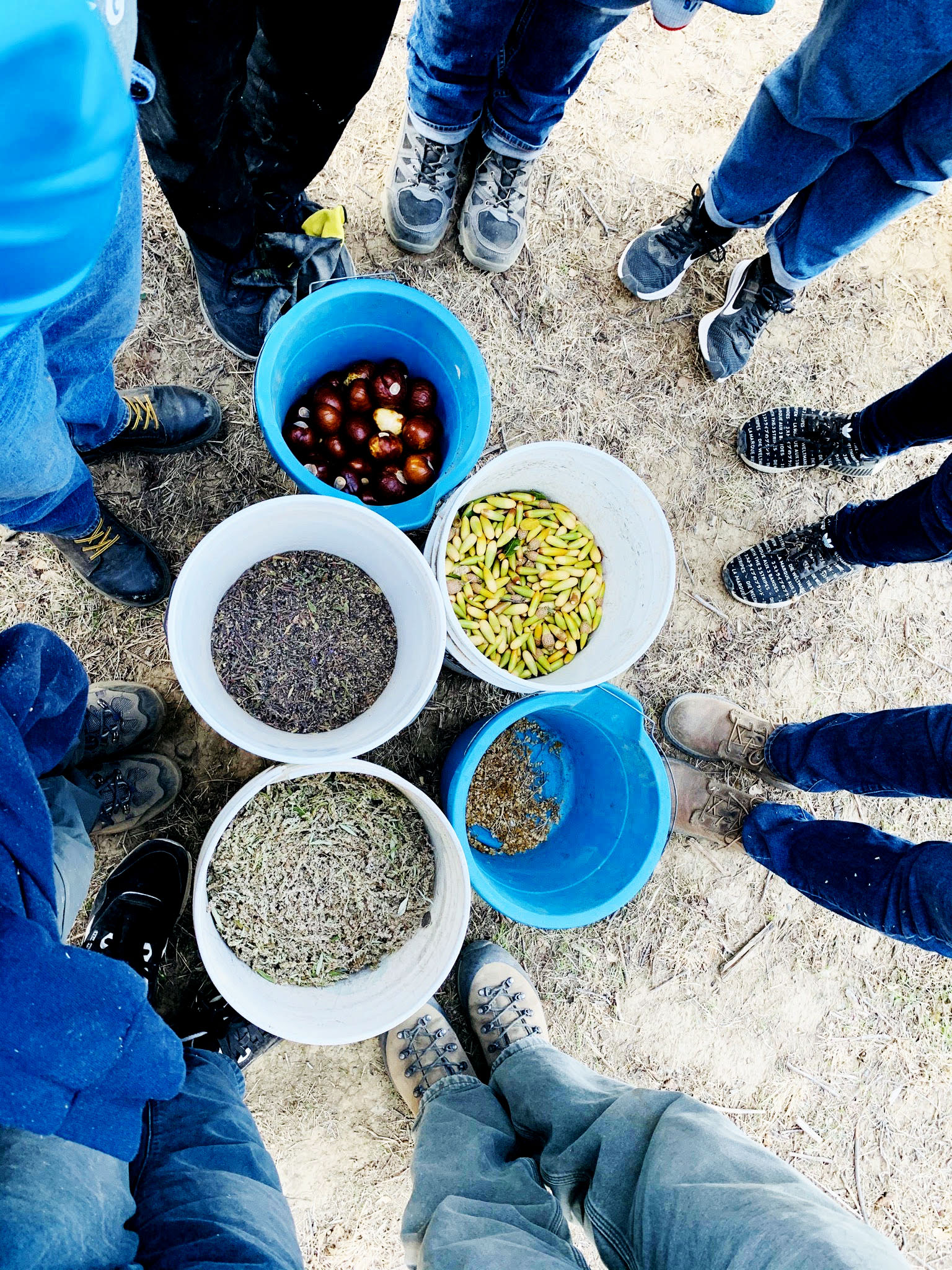 Simultaneously, S.E.E. Putah Creek is working on bloom calendar and recording what species are flowering every single month, so future interns have a reference guide. The interns take photos of different plants and document the names and descriptions. They started the calendar last spring, and hope to complete it by next fall when they will post it online as a learning tool for the public too.   
Like the habitat they maintain, the S.E.E. Putah Creek team takes winter quarter off, but come spring you'll find them undertaking more planting projects when the soil is moist and easier to dig. At this time Alarcon, hopes that the interns can see that impact of their work.  
"What I want them to know is how much we can do to affect the reserve, and to the see how the reserve changes from the first day we start to the finish line, and to see how special that is. I want them to get excited to become an environmental leader themselves."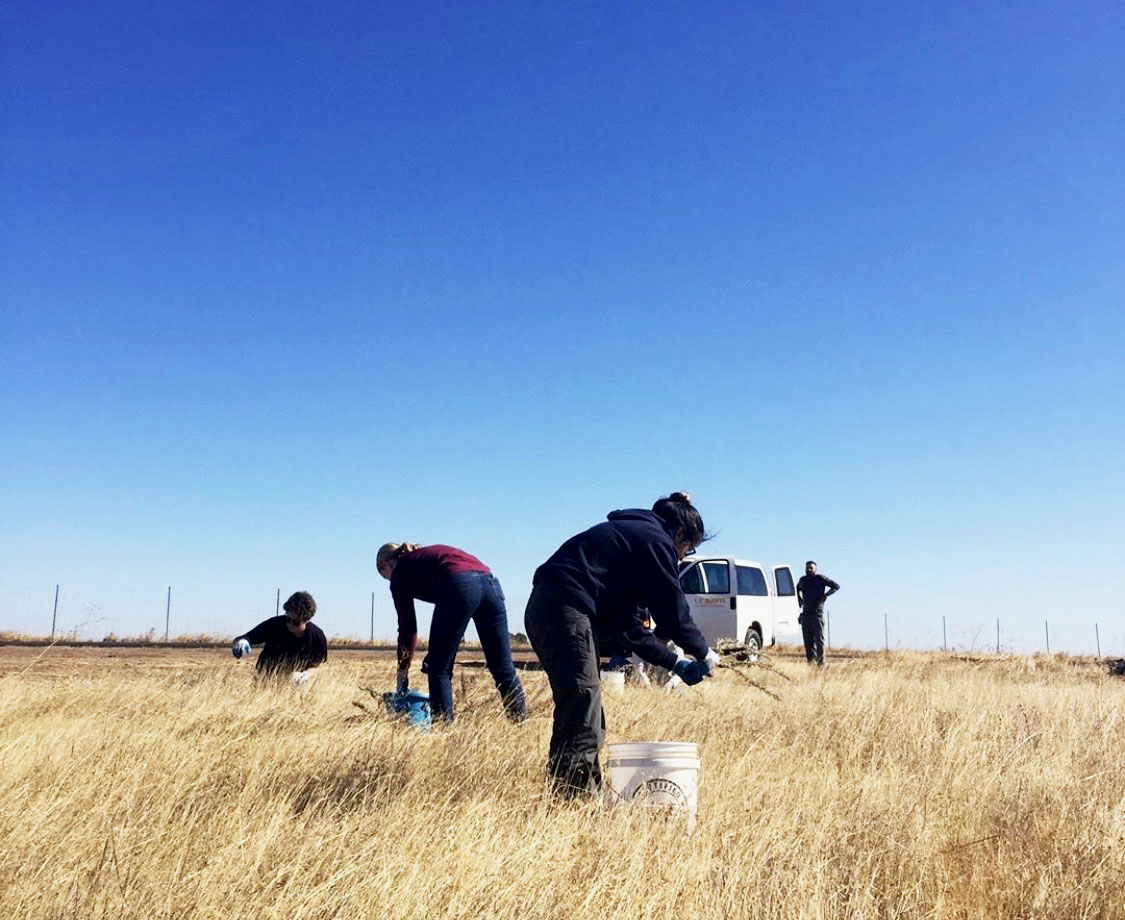 For Alarcon it is her second quarter as a co-coordinator for S.E.E. Putah Creek, and second year in the Learning by Leading program. In addition to the hands-on learning, she feels her leadership skills have developed significantly.   
"When I started, I was really shy and I've really improved on talking in public and feeling like I'm enough to be in charge and not doubting myself. I need to work with every single intern personally, and it's nice to be able to form those relationships with your peers."  
Category
Tags