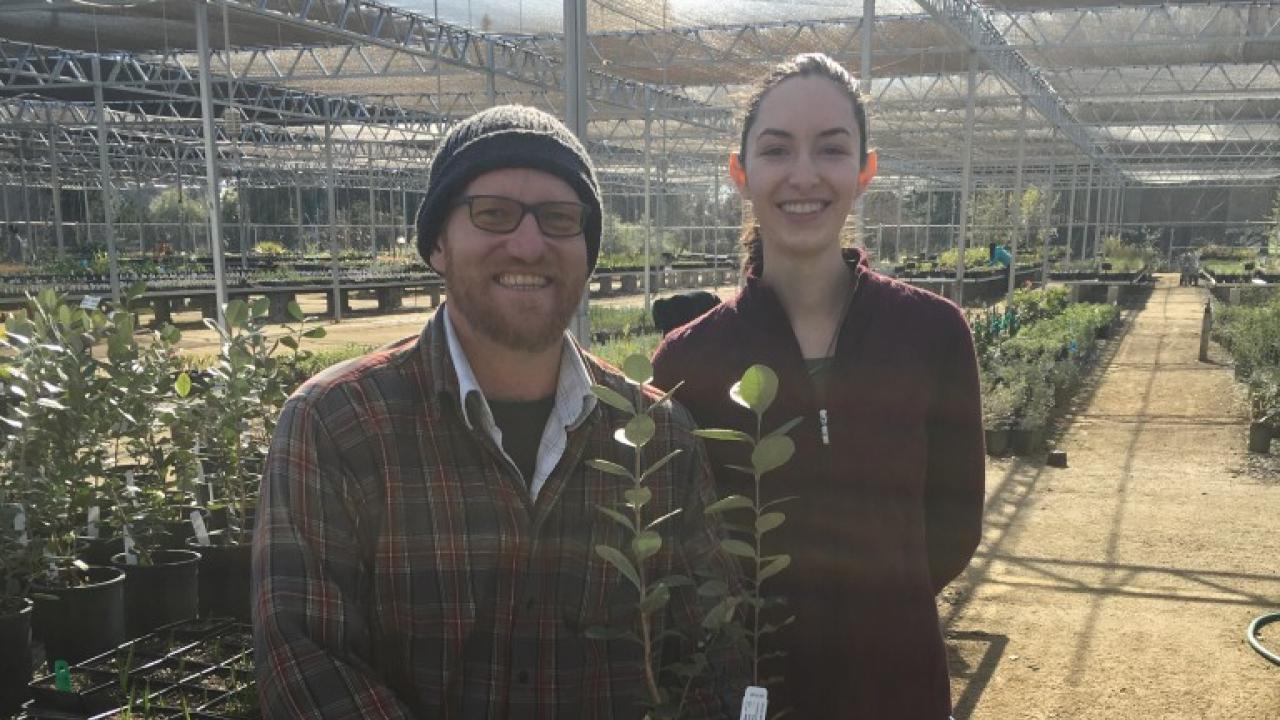 UC Davis Arboretum Teaching Nursery Manager Taylor Lewis leads a motivated group of nursery propagation interns who are excited to apply the concepts they learn in class to the soil around them. Each student is responsible for an area in the nursery; they are given the opportunity to experiment with different care and maintenance techniques, and then, evaluate what works and what doesn't. According to his students, the internship provides them with valuable experience that they don't get in a classroom.
"A lot of what we study is theoretical, which is great for improving our knowledge base, but it isn't hands on," says Christina Elms, plant propagation and nursery intern. "For me, when I actually see how plants respond in real time, it cements my classroom learning."
Elms has been interning at the nursery for over a year and has become well acquainted with the maintenance needs of her plants — how to prune them, when and how often they need water, and more.  Look for Elms and Lewis' other interns at the Friends of the UC Davis Arboretum and Public Garden's spring plant sales. Lewis will station each of his student interns as leading experts and informants in their plant area.
"This new strategy will increase efficiency, while giving students the ability to share what they have learned with others," explains Lewis. "The students gain the satisfaction of seeing their hard work pay off, while helping customers identify and comprehend which plants best suit their needs."
LEARN MORE about our upcoming SPRING PLANT SALES.
LEARN MORE about the UC Davis Arboretum and Public Garden's LEARNING by LEADING program.
Posted February 19, 2016  |  Jamie Marzouk, Communications Intern
Category
Tags