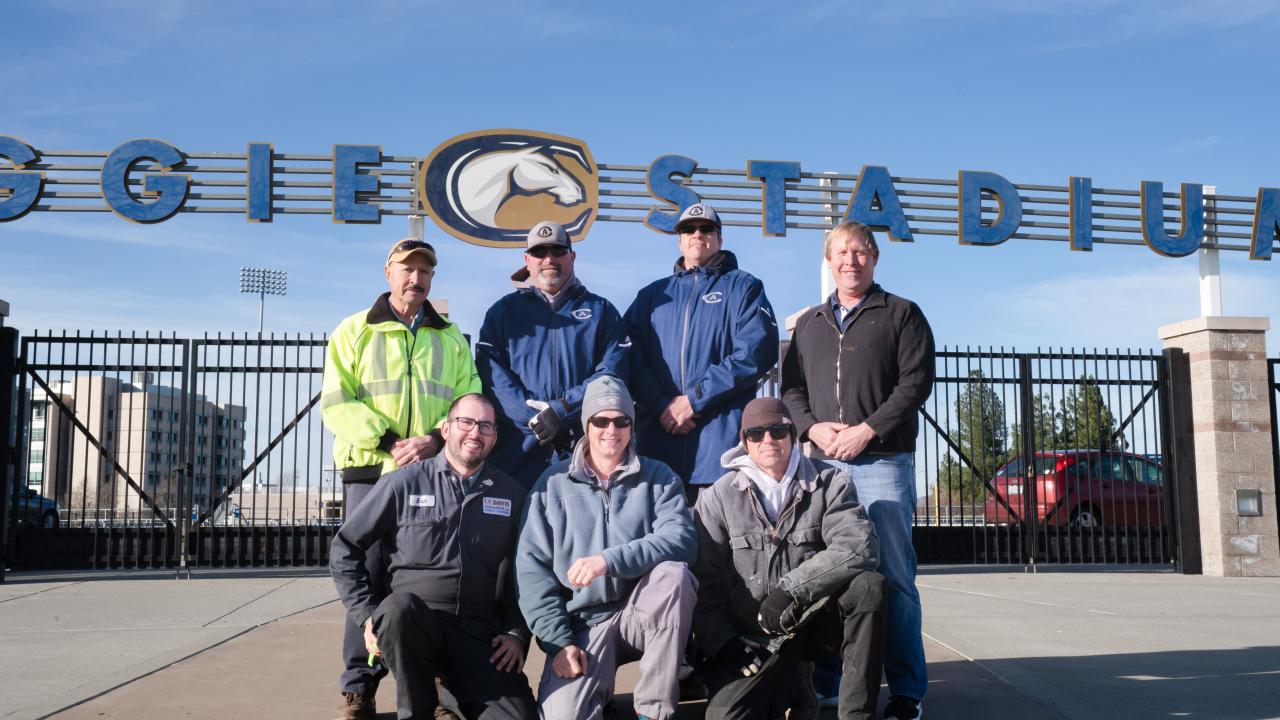 by Shawn Reid, communications intern and Katie Hetrick, senior communications manager
Picture this. It's Saturday morning, December 1, 2018. The Aggies prepare to play at home in their first post-season football game since moving up to the NCAA's Division I. Record crowds are expected not only for the game, but the pregame tailgate – when the grassy area at the corner of Hutchison Drive and La Rue Road fills with microbreweries, food trucks, and hundreds of fans – field conditions permitting that is.
"Our tailgate field was flooded at 9 a.m.," said Micah Sokolsky, Aggie Stadium facilities director. "There was no way any tailgating could take place by noon were it not for the quick action taken by our Grounds and Landscape Services team."
Despite early weather contingency preparations, Mother Nature had other plans.
"We actually started preparing Thursday after the first heavy rain that week," said Michael Bauer, supervisor for Grounds and Landscape Services. "By Saturday though, the ground couldn't take on any more water."
"The tailgaters would have needed waders to navigate to the party and there's no way we could have let people drive on it – they'd get stuck," added Sokolsky.
Pouring a bunch of gravel – the solution they came up with earlier in the week to make the driveway entrances navigable – was not an option. They needed another answer and they needed one fast – it was just a couple hours before vendors and fans would arrive.
"All of a sudden I knew," said Bauer. "Mulch! We've got a lot of it because we make it right here on campus from trees and tree limbs that need to be removed for health or safety reasons. I just needed people to help spread it!"
Within 30 minutes Bauer rounded up all the Grounds team members available on Saturday. They dropped everything, brought their dump truck, front-loading tractor and a whole lot of shovels and spreaders.
By 11:30 a.m – one half-hour before the gates opened – the Grounds crew (who, in addition to everything else, also had to fix a flat tire on their tractor) covered the field with several inches of walkable mulch – the perfect solution for making the rainwater and mud disappear!
Tailgating commenced, the fans were happy and the Aggies won! Coincidence?
"Because of our Grounds and Landscape Services team's creativity and solution-oriented approach, our fans had a great day enjoying the pre-game tailgate set up they love," said Kevin Blue, director of athletics. "They worked tirelessly in preparation for this important game and helped us navigate uncertain weather.
"I cannot thank them enough for being a part of the resurgence of UC Davis football!"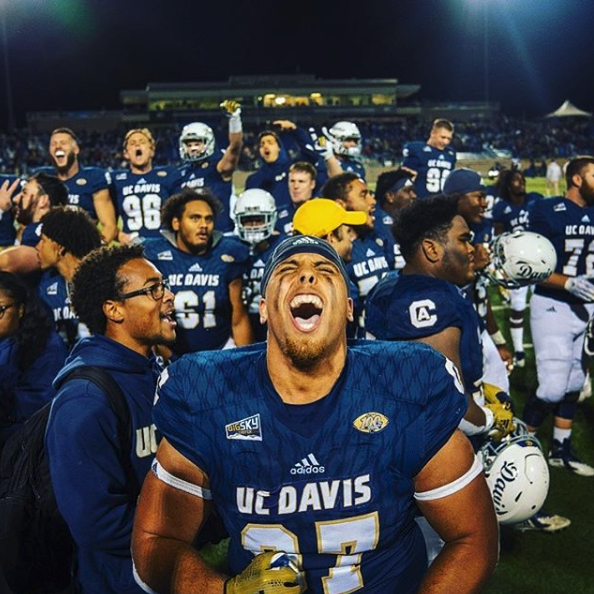 Aggies Win! Advance in FCS Playoffs
Click here to learn more about the UC Davis Aggies first Division 1 playoff game win!
Category
Tags