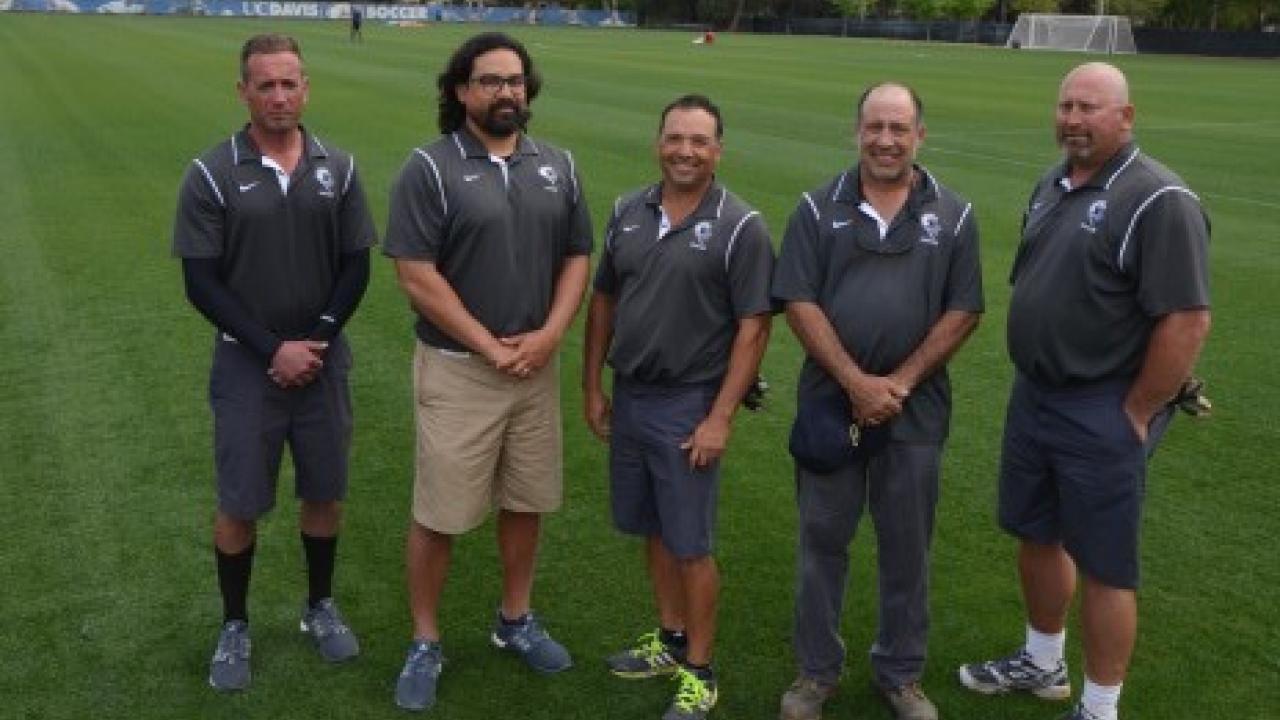 Did you know that the UC Davis Arboretum and Public Garden's Grounds and Landscape Services team also maintains all the athletic fields on campus? Luckily for us, Kore Higuchi, the former sports turf manager for the NFL's Arizona Cardinals, is now the supervisor of this operation. With only four full-time staff and two student workers, he and his team maintain 78 acres some of the best athletic fields in the Big West Conference which isn't easy considering they manage over 322 athletic events a month (approximately 3,871 events a year).
Don't believe us? Below is a letter from the head coach of the UC Davis Women's Soccer Team Twila Kaufman, to Assistant Athletics Director Matt Blankeheim and Grounds and Lanscape Services Supervior Kore Higuchi as well as a heartfelt video of thanks from the UC Davis Women's Soccer Team.
---
April 7, 2016
Matt & Kore,
In the last month I have literally cried a few times on campus. The reason…OUR FIELD!  I can't explain what a soccer field means to a soccer lover. There is something about a well groomed field that makes you role your shoulders back, puff your chest out and smile deeply on the inside. It reminds you what you are capable of and what a special thing it is to play this beautiful game.
When I walk the field each morning, I take note of different lines your mowing/cutting makes. It is absolutely stunning. I enjoy the thickness of the sprawling blanket of grass under my feet. My eyes dance with the shifting of the colors as I move from sunny to shady areas and the dew glistens. There is nothing on earth like a freshly lined field. This is a kind of heaven here on earth for us … the soccer lovers.
I wish you saw the looks on each one of the U-19 United State National Team Player and Staff faces when they entered our facility after several days of rain and time at various indoor and turf facilities. Jaws dropped and I actually heard one of the players with the best and brightest futures say: "This is why US Soccer chose Davis. I am in love." I am a cryer and so I cried then too…remembering the day my staff contemplated hiding the field with a tarp when a U-17 national team player visited us in my first couple months here and the field looked completely different. Just two years later YOU have made us relevant in the minds of the nations best.
With our office being in an old health center and our team having no locker-room there are little options for sitting and visiting with recruits or even current players that paints the picture of how special this place actually is. The field is our office, locker-room, visitor center and soccer family hub.
We are aware that to maintain the field as it was that it was very laborious. The job you all do is so immense, hard and time consuming. You have also done so much with so little resources. We are thankful for that past work too but this??? This can only be a labor of love and I want you to know we feel it every day. Not one ounce of your labor and sweat is wasted. Whatever you added financially to make this a reality…it was not wasted. WE ARE SO ENCOURAGED!
My players tell me this is the first time they have felt completely "sacrificed for." They tell me "Kore sees us every day and he knows we are working as hard as we know he must have worked for us." They tell me, "This grounds crew believes we can win here." They tell me they "feel special."
Matt & Kore, this means more to me than winning (and I love to win)…that my players feel cared for, loved, appreciated, believed in & celebrated. Your work is calling them to something greater.
I would love to give you guys an experience or something to thank you. I am just not sure what to do. Kore, the federation gave me a pennant that commemorates their time here for the program. I think it is only fitting that it goes to your crew. I would love to pinpoint a time when your whole crew is free that our team can present it to you.
Please pass a long this video thank you to your guys. We mean ALL OF IT and THEN SOME from the bottom of our hearts.
THANK YOU!
Twila
Category
Tags