APPLICATION DEADLINE: January 16, 2015
Would you like to spend more time outdoors? Would you like to learn new skills? Are you looking for a way to fulfill a New Year's resolution to give back to the community? Consider volunteering with the UC Davis Arboretum and Public Garden! It's a rewarding place to spend your time with lots of fun, food, and camaraderie! We are seeking new volunteers to join our gardening and education outreach volunteer teams. Trainings will be offered this winter and include a combination of expert instruction and hands-on projects.
PLEASE NOTE: There will be a $20 training materials fee due at your team's first scheduled training date.
GARDENING VOLUNTEERS work in teams on Tuesday, Wednesday,Thursday, or Friday mornings to help maintain and beautify Arboretum and Public Garden landscapes. Each team focuses on a different area; volunteers work in collaboration with horticultural staff.
Training dates:
Thursdays, Jan. 29-Mar. 5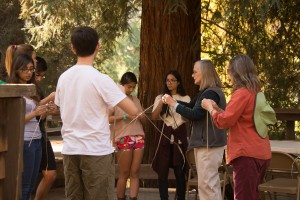 EDUCATION OUTREACH VOLUNTEERS work with Arboretum and Public Garden staff and student interns on weekend days (mostly Saturday afternoons) to present educational programs for campus visitors of all ages.
Training dates:
Saturday afternoons, start date in late January.
APPLY NOW. SPACE IS LIMITED.
Applications are due Friday, January 16.
The application forms and more information are also available on the Arboretum website at arboretum.ucdavis.edu. If you have questions, please contact Roxanne Loe at (530) 752-4880 or rgloe@ucdavis.edu.
PLEASE NOTE: Our offices will be closed from December 20-January 5. We will respond to our inquiries as soon as possible. Thank you for your interest!
Category
Tags