Nature's Gallery Court Tile Dedications 
About
The UC Davis Nature's Gallery mural is a stunning work of art composed of over 140 colorful ceramic tiles—hand-crafted by students, staff, faculty, and community members—each depicting diverse drought-tolerant plants or insects found in the Arboretum's Ruth Risdon Storer Garden. This unique, high-profile project showcases the talents of the artists, students, community members and educators involved in its creation, and the generosity and support of our benefactors. Before permanent installation in its home on campus in 2012, the mural was featured at the US Botanic Garden in Washington, DC.
Scroll through the gallery below OR click here to view the complete gallery.
Location
Located at the west end of the UC Davis Arboretum between the Ruth Risdon Storer Garden and the Arboretum Teaching Nursery, the mural is a prominent focal point for an inviting tree-lined courtyard highlighting the Arboretum's main western entrance.  
Donation
Thanks to a broad base of community support, Nature's Gallery will forever be a place of beauty and education on the UC Davis campus. Much of the funding for installation of this project came from the gifts we received for an initial round of tile dedications offered at the time of installation. Those engraved butterfly and leaf shaped tiles, each associated with one of the mural's plant or animal tiles, are displayed on two dedication walls that flank the mural. We are now making the remaining butterfly and leaf tiles available for dedication to allow even more members of the community to create lasting memories in Nature's Gallery.  We invite you to be part of the legacy of Nature's Gallery by dedicating a tile or making a donation to support the project. Gifts are fully tax-deductible.
Dedications Options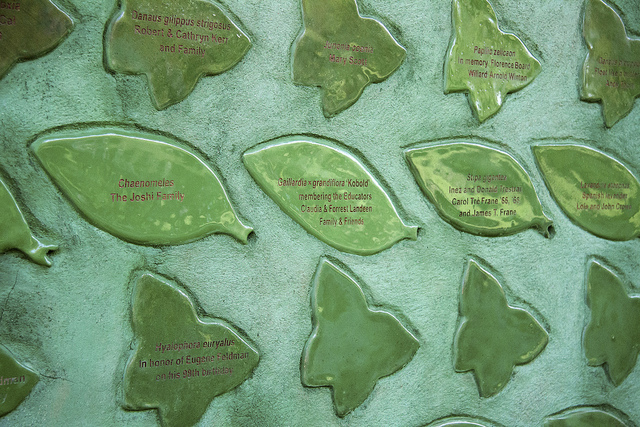 Leaf Tile (three lines of engraved text):                  $1500
Butterfly Tile (two lines of engraved text):              $1000